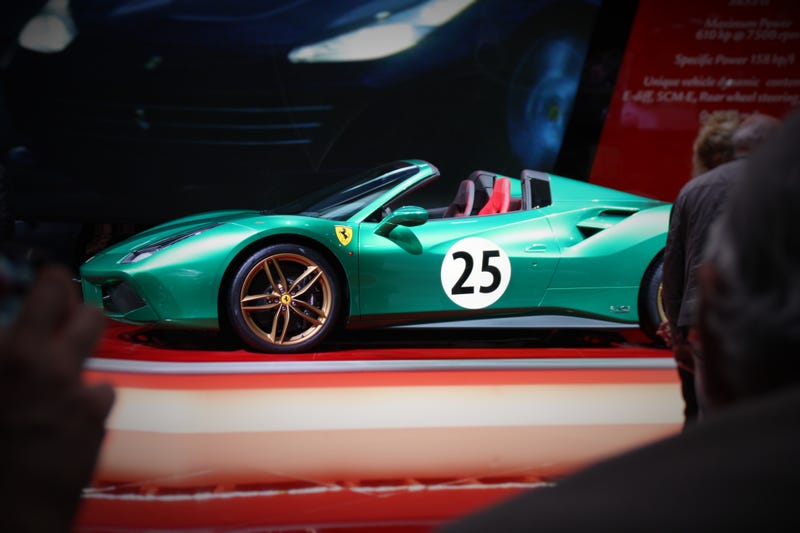 The Paris Auto Show is, in many ways, a miserable experience. It's massively overcrowded, too hot, too big, and you'd have to take a small loan of a million dollars to park and eat there. This year, many big names didn't even attend the show, which didn't help either. However, a few cars put a smile on my face and made me actually happy I came.
First, let's talk about that header image. Look, I'm a cynical being. When I heard about all the paintjobs Ferrari were going to make to celebrate their 70th Anniversary, all I could think of was how much money they were actually going to charge people for a couple of paint brushes and a small plaque. But I have to say that this green Ferrari blew me away. The new Ferrari TheFerrari spider was parked in front of it, but with its black paintjob it could just as well had been invisible to me. I never thought a green Ferrari with gold wheels and two seats of two different colors would blow me away that much.
The French manufacturers were of course playing the home field, and came with some concept cars, like this massive Renault Trezor. It is an impressive car, but I'm not totally sure I get it. Maybe it's the red canopy or the round forms, but it all looks a bit 2003-ish to me. Plus I'm pretty sure nothing even close to a real sportscar will come out of this. I like the rear end, though.

But hey, I shouldn't complain. It's cool that big manufacturers still try new things like that and give us an outlandish car once in a while.
In the same vein, although less spectacular (and popular, it has to be said), was the Peugeot Fractal concept. I liked it a lot. It's a small thing, and I can see some elements being carried to future hatches from Peugeot. Others concept cars included a BMW X1 preview which looked quite good, a sedant from Citroen, and a small city-car-of-the-future from Toyota, which I actually liked a lot. Maybe I just have a thing for enclosed rear wheels.
---
To be completely honest with you, I have quite an unhealthy penchant for race cars. Fortunately there were quite a few this year, from F1 cars to Dakar beasts, and with a lot of Formula E cars as well.
The Toyota area was an absolute blast. This Nurburgring 24 thing that I had never heard of looked bad ass, there were two Le Mans cars including one where you could climb aboard (best moment of the whole show), and a rally car.
Other manufacturers of course brought their own race cars, including a WEC car from Porsche (of course), a very surprising SsangYong rally raid car, a WRC car from Peugeot which also brought its Dakar machine. What an menacing beast. Awesome.
---
The Paris Auto Show being essentially the biggest showroom in the world, many consumer cars where present. Most were normal Mercs, BMW, Peugeot and stuff, but a few stood out, like the new Cactus-inspired Citroen C3. I'm glad to see that French enconoboxes are getting funky again!
And now, to the fun stuff! In a small hall was presented an exhibition on movie (and TV, and videogames) cars. From a Delorean to KITT, from the DB10 to a flying DS, it was impossible not to smile!
This section was clearly a high point of my visit. As I said, the Paris Auto Show can be a bit of a chore. You can barely walk because of the crowd but you clearly have to given how vast it is (took me 3 hours to see everything, nearly running between each car), it's smelly, hot, you can't really see the cars, let alone take decent pictures. And this year wasn't particularly impressive either. The first one I ever went to was the one where the Enzo premiered. It still is a vibrant memory, and a major reason I still go every two years, when it's on.

---
But this year, the smaller, less important cars were the most pleasant part of it, the movie cars coming on top of that.
Special mentions to the Toyota stand for letting people sit in one of their race cars, and to the Opel one for being so creative about their display. Sadly, I didn't take any picture of it, but you can see one in KatzManDu's post!
As a finishing note, it's always funny to see how insanely popular the show is, right at the heart of France's car bashing culture. Between that and Le Mans, it's truly impressive to see how many French petrolheads haven't lost faith.

You can check out (many) more pictures, including a small incursion in part of the show's private parking, in my Flickr gallery here: